As part of the cooperation with Arbeit und Bildung e.V. and the Institute for Productive Learning, we are running the project " Practical training for young people refugees" in the second year. This programme is funded by the Senate Department for Education, Youth and Family.
The first 70 participants* from 5 different schools each completed a week of orientation in the Fliegerwerkstatt.
In this first phase they have time to arrive, get to know and appreciate each other better in their group and develop their first manual skills.
Language support related to practical learning is an essential part of the concept.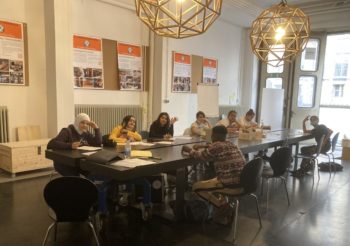 Some of these young people will remain in the Temporary Learning Group throughout the school year and will implement further projects in the Fliegerwerkstatt three times a week.
Working together, cooking, eating and experiencing each other are our approach to a trustful cooperation and personal development of the young people.